School Bus Timetable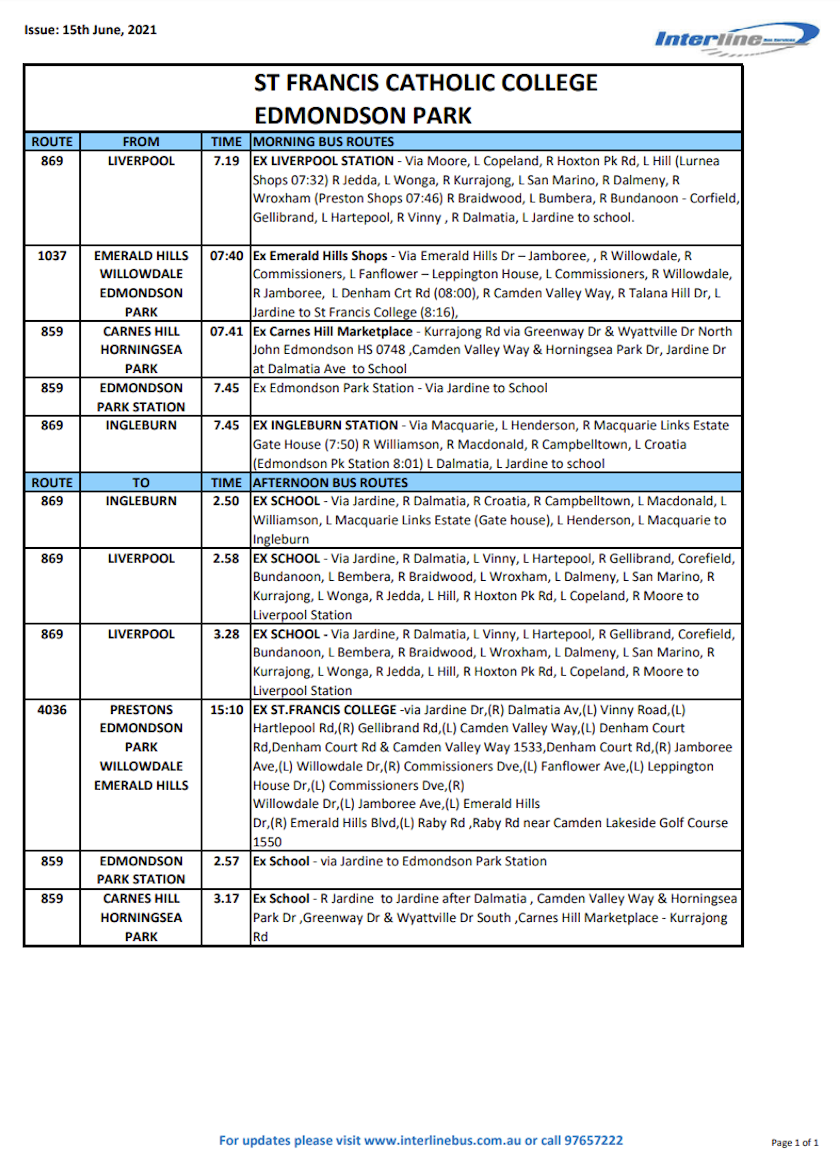 Interline 869
Interline have advised that Route 869 will operate from Day 1 of 2018. The Buses on Route 869 will be diverted into St Francis. Route 869 operates from Liverpool Station via Lurnea and Prestons to Edmondson Park Station and then via Bardia to Ingleburn Station and reverse. Several other schools also utilise Route 869.

Interline 853 - 854
Currently Route 853 operates via Hoxton Park Rd, Middleton Grange to Carnes Hill. Route 854 operates via Hoxton Park Rd, Carnes Hill to Horningsea Park. Transport for NSW have approved that both services be extended via Jardine Drive, Edmondson Park to Edmondson Park Station as May 2019.
Parents wishing to have this extension of service approved earlier than May should contact Transport NSW or Fill out the Online Feedback Form on the Transport NSW Website with the following fields filled out.

INTERLINE 859
Other Bus Routes
Interline are currently investigating proposed re-direction school service routes linking to Carnes Hills, Horningsea Park, Glenfield, Minto and Campbelltown.
Interline operates a number of schools services that operate in the proximity of Edmondson Park that may be able to be amended to operate via St Francis College. Investigations are new complete and proposals will be submitted to TfNSW ASAP. St Francis Catholic College will be provided confirmation of approved service changes soon after approval.
If you would like to request a specific route change you can contact Transport NSW at the following web address.