At St Francis, we provide opportunities throughout the year to celebrate Catholic life. The College has a good relationship with its Parish Priest, Father Bosco Son SVD and Assistant Priest, Father Joseph Dondeti SVD. Class Masses are celebrated on the 1st and 3rd Wednesdays of the Month at the College. Our Priests also celebrate Masses and liturgies for Ash Wednesday, Easter, the Feast of the Blessed Edmund Rice, Feast of St Francis of Assisi and End of Year Mass. Masses are celebrated both at the College at Edmondson Park and in Mary Mother of the Church Parish Church at Macquarie Fields.
Our Priests also visit the College informally to meet staff and students and make themselves available to present content in Religious Education classes when invited by the staff.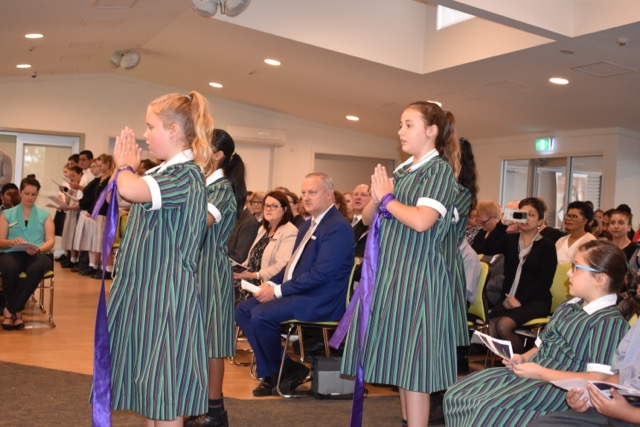 St Francis Catholic College is a Diocesan P-12 Catholic School in the Edmund Rice tradition. Our school was established as a result of a partnership with the Diocese of Wollongong and Edmund Rice Education Australia (EREA). We also aim to work closely with the Catholic Parish of Mary Mother of the Church, Macquarie Fields and neighbouring Catholic Parishes.

Catholic Education - Diocese of Wollongong
The Diocese of Wollongong is one of eleven Dioceses in the state of New South Wales. The seat of the Diocese is situated in the regional city of Wollongong which is situated approximately 100 km south of Sydney, NSW, Australia.
From the north, the Diocese stretches from the South – Western Sydney suburbs of Camden and Campbelltown in the growing Macarthur region, down the coast of the Illawarra and the Shoalhaven region with Milton-Ulladulla at the southern edge of the Diocese. The western region of the Diocese takes in the Southern Highlands townships of Bowral, Moss Vale and Mittagong.

Edmund Rice Education Australia
EREA schools strive to offer a liberating education, based on a gospel spirituality, within an inclusive community committed to justice and solidarity.
Edmund Rice Education Australia (EREA) is the network of schools, entities and offices offering a Catholic education in the tradition of Blessed Edmund Rice.
Established by the Christian Brothers in 2007, EREA now has full responsibility for the schools operated by the Brothers at that time. With the addition of schools established since 2007 there are over 50 schools in 2017 enrolling over 35,000 students, through all states and territories of Australia. As part of their mission within the Church and shaped by the charism of Blessed Edmund Rice, schools offer an education guided by the Charter for Catholic Schools in the Edmund Rice Tradition.

Macquarie Fields Parish

Mary Mother of God Parish, Macquarie Fields is a Christ-centred Catholic Community that is committed to living Gospel Values, united by faith as we bring God's Kingdom to life.
Our Mission is to welcome all, and respect and support each other in our spiritual journey. We encourage the gifts of people in building our community